Is NEO About To Crash? Developers Unleash 1.6 Million Tokens
Launched in 2014 as Antshares and later rebranded as NEO in 2017, the leading Chinese-based technology platform could now witness a massive price fluctuation in the market as its developers have unleashed 1.6 million NEO tokens which represent 2.3% of its total circulating supply.
The market value of those 1.6 million NEO tokens is considered to be over $11 million. Like many other cryptocurrency developers, the NEO team also holds a considerable amount of native tokens so as to generate funds for its operation whenever it is in needed.
It's a usual market practice exercised by many crypto development teams to generate funds. The news was shared by Whale Alert via tweet.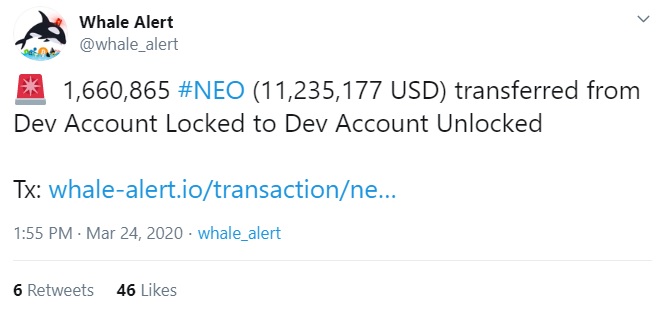 The crypto market is in the course of a correction after it took a heavy blow from the US Stock market and Oil price fluctuations along with the Coronavirus outbreak. The NEO development team would definitely want to see a price rise for NEO token before they liquidate their 1.6 million NEO tokens in the market.
In the early year of 2017, NEO entered the market and was labeled the 'Chinese Etherium' which focussed on creating decentralized applications (Dapps). From a mere $0.15 in early 2017, NEO's market price surged to whopping $195.3 in January 2018. However, after China banned all the ICO launch in early 2018, NEO's price gradually fell to what it is right now, i.e. $6.84.
The fall of NEO was also being attributed to the rise of its new rivals like VeChain and Cardano who offered similar services. However, NEO is again looking forward to coming back into the game with its major upgrade of NEO 3.0. It includes the launch of its mainnet.
Image via Shutterstock
Read More