KeyFi Announces Native Token Listing on ApeSwap DEX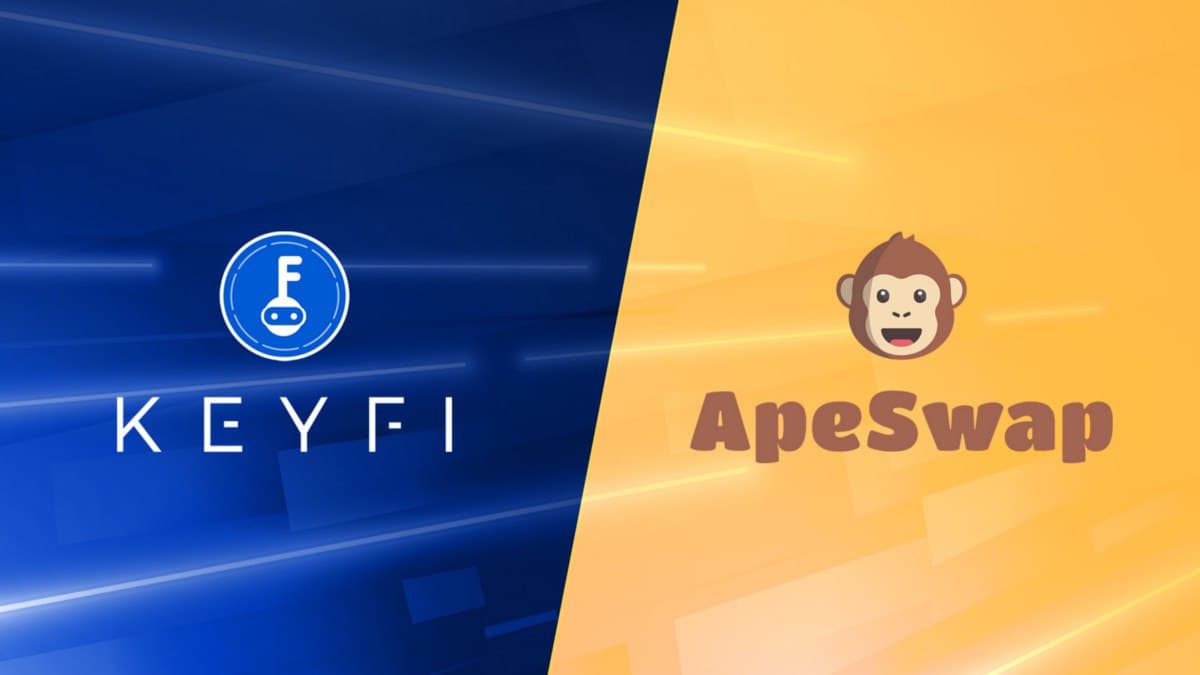 ApeSwap is setting up a farm where users stake KEYFI-BNB LP tokens and receive BANANA rewards.

KeyFi, an AI-Powered DeFi aggregator platform backed by SelfKey Credentials, is listing its native token, KEYFI, on decentralized exchange ApeSwap.Finance.
In addition to the new listing, which takes effect today, KeyFi is giving away 300 KEYFI to their community on the BSC-based automated market maker. The token giveaway ends on April 25, 2021.
Participants will be notified via KeyFi's communications channels when rewards for the token staking starts. But it will also soon be possible to stake KEYFI tokens directly, with the added benefit of access to a dedicated BANANA staking pool rewarding ~$200,000 in KEYFI over three months.
The development comes shortly after the Defi management platform launched its KeyFi token on Binance Smart Chain (BSC). This migration, however, didn't not limit Ethereum-based KeyFi users, as they are still available to acquire the token on Uniswap, which facilitates automatic trading of any ERC asset. The leading decentralized exchange will also continue to host liquidity mining to further cement KEYFI's position as a true multi-chain token.
Interested investors can also continue to acquire the token via other decentralized exchanges and automated market makers, including PancakeSwap.
KEYFI powers the decentralized governance of KeyFi platform and also acts as an incentive for users, allowing them to take part in the decision-making process for the platform's future. Similar to many other DeFi projects, the token allows the community to decide on the addition or removal of assets, and data/wallet integration, as well as proposing new features.
KeyFi users can interact with popular DeFi platforms and assets as the AI-powered aggregator offers users relevant data and alerts with the help of advanced AI and analytics tools.
ApeSwap farm rewards users for staking KEYFI-BNB LP tokens
ApeSwap will provide KeyFi's user base with a variety of ways to engage, invest, and profit from various activities on the platform. Most of these activities rely on the native $BANANA token, which serves as the utility token across ApeSwap ecosystem.
The many ways in which users can interact with ApeSwap includes trading, farming, pools, while acquiring $BANANA tokens as a reward for offering liquidity to the platform.
"ApeSwap is setting up a farm where users stake KEYFI-BNB LP tokens and receive BANANA rewards, ApeSwap's native token. The farm will start with a multiplier of 1x, and over the course of three months, this farm will reward ~$200,000 of BANANA to users (based on the March 31, 2021 token price)," KeyFi explains.
This farm is also a way to further incentivize pooling liquidity for other trading pairs and generate more $BANANA on top of the token's users hold.
In a bid to become a fully interoperable decentralized finance hub, KeyFi has recently allocated one million KEYFI tokens to Binance Smart Chain (BSC). The low-fee blockchain owned by the world's most influential crypto exchange, has become increasingly popular due to expensive gas fees on the congested Ethereum network.
Disclaimer : The views and opinions expressed in this article are those of the contributor and Blockchain.News does not endorse and is not responsible or liable for any content, accuracy, quality, advertising, products or other materials on this page. Readers should conduct their own research before taking any actions related to this company. Blockchain.News is not responsible, directly, or indirectly, for any damage or loss caused or alleged to be caused by or connected with the use of or reliance on any content, goods or services mentioned in this article.


Read More