Matrixport Partners with Simplex to Allow Buying Crypto Using Credit Card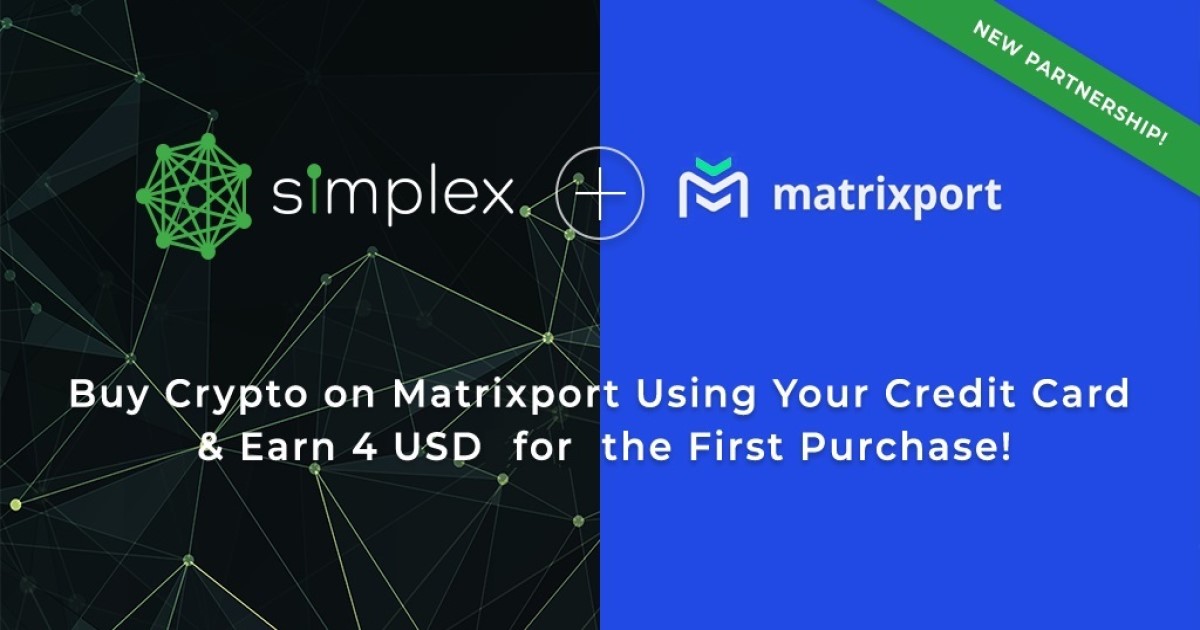 SINGAPORE – Matrixport, the Bitmain spin-off and a leading financial service provider for digital assets, today announced a partnership with the leading payment process company Simplex, enabling users to purchase cryptocurrencies using their credit cards directly and securely on Matrixport.
With Simplex's support of more than 20 fiat currencies, including USD, EUR, RUB, GBP, JYP, CAD, AUD, and KRW etc., users from anywhere in the world are now able to buy cryptocurrency and enjoy the high returns offered by Matrixport's popular investment products with ease. In one stop on Matrixport's mobile app, users can easily buy crypto with their Visa or Master cards, invest their crypto into products such as Dual Currency products and Dip Hunter, and start earning 20-100% annualized returns or buy bitcoin at a discount. In addition to convenience, Simplex guarantees Matrixport users the highest possible degree of security for credit card purchase.
"At Matrixport, our mission is to make crypto easy for everyone. Partnering with Simplex is an important step towards it." says John Ge, co-founder & CEO of Matrixport and also co-founder of Bitmain. "I'll give you one example. Dual Currency – USD is one of our most popular products as people can invest in USDT/USDC and earn returns way higher than what they can get from banks deposit and most funds. Previously, our users had to purchase USDT/USDC somewhere else and transfer it to our platform. The support of Simplex has greatly streamlined the process, making these attractive returns at your fingertip. Under the current global environment of unlimited QE, people around the world are showing stronger needs for investment products with relatively high returns to counter inflation, and with the help of Simplex, we are able to provide more people with equal access of investment opportunities."
"We are excited to partner up with Matrixport to enable our leading on-ramp solution and make the purchasing of crypto an easy, fast and safe experience globally," says Ari Last, the VP of Business Development at Simplex.
In order for more people to enjoy the convenience, Matrixport offers to reward 4 USDT to each user for their first credit card purchase, for a minimum order size of no less than USD100 (or equivalent). For more details of the event, check out Matrixport's website or app.
About Matrixport
Matrixport, span off from the crypto giant Bitmain and officially established in February 2019, is a one-stop crypto financial services platform offering digital currency trading, institutional custody (branded as "Cactus Custody"), lending as well as asset management to both institutional and retail customers. The digital currencies traded on its platform include bitcoin, bitcoin cash, ethereum, litecoin, Ripple, Tether, USD Coin and many others. Matrixport was co-founded by Jihan Wu and John Ge, who were both mining industry veterans and co-founders of Bitmain.
Matrixport has 150+ staff globally with global headquarters in Singapore and offices in Hong Kong, Zurich, and Moscow. With rich industry resources and leading technology capabilities, Matrixport aims to make crypto easy for everyone and create the next generation digital financial service experiences. Matrixport's vision is to enable a more open and equal financial system using blockchain technologies.
To learn more about Matrixport, go to https://www.matrixport.com.
About Simplex
Simplex is an EU-licensed financial institution, providing the fiat infrastructure for the crypto industry. Simplex processes crypto-to-credit card payments with a 100% guarantee – in case of a fraud chargeback, the merchant gets paid by Simplex. Simplex's cutting-edge fraud prevention solution and state-of-the-art AI technology blocks fraudulent users and allows legitimate users to complete payments with ease, increasing conversion rates and enabling merchants to focus on their business growth. To learn more about Simplex go to www.simplex.com
Read More