PayPal Exposed of Overcharging Clients: Can Bitcoin be the Remedy?
The news has been making the rounds again as grievances have been seen expressed about the exploitative conversion fees being charged by PayPal.
The e-payment giant has been receiving some attention from social media as well as its community page about the incorrect conversation fees it charges its clients, one of its users is of the notion that the US government probably makes about $100k every day by selling one fiat currency for another at about 3-4% higher rates.
The issue had somehow passed through the nerves of the crypto community as a Reddit user had shared a screenshot showing PayPal's exorbitant charge of 0.87462 EUR for a US dollar, this rate when being matched by a Google search of current exchange rate had reflected a 4% addition – 0.91 EUR a dollar. Tone Vays a prominent derivative trader later made a tweet using the same screenshot while criticizing PayPal for the unfair rates.
In his tweet, Vays said:
"So messed up for @PayPal to charge a 4% fee on the $EUR to $USD exchange," he added that bitcoin would eventually destroy the payment company.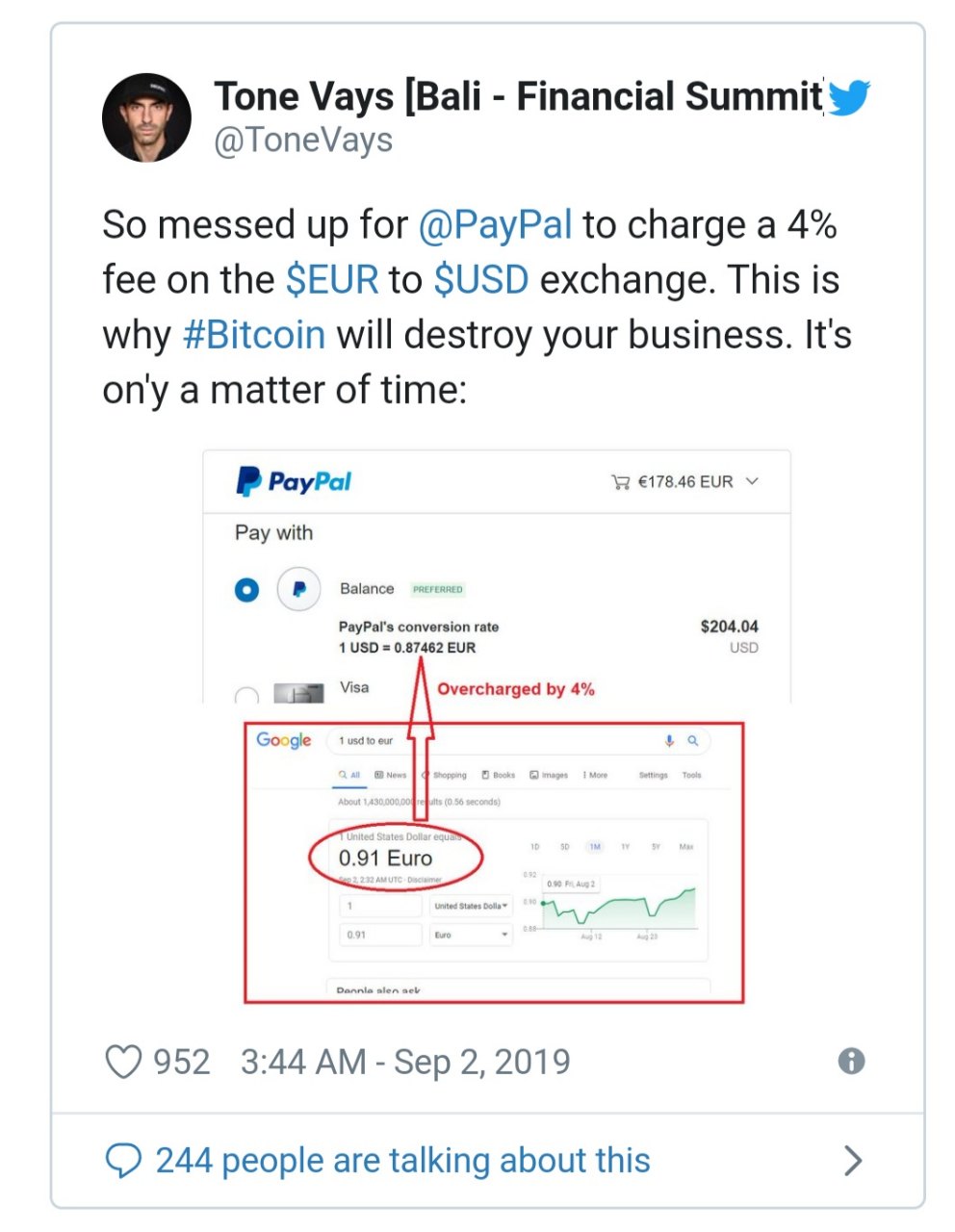 Is Bitcoin more expensive?
His tweet was followed by an epistle both for and against Bitcoin, with a majority of the comments saying that Bitcoin was an option which was a lot better given its permissionless, decentralized and immutable characteristics. This argument on whether Bitcoin is a PayPal-killing app went on endlessly. Moreover, Bitcoin seems to be more reliable as it eliminates the need for a third party while giving users full access to their funds.
Although price volatility remains a limiting factor for Bitcoin and those that know their way around it can harness it but till then, let the grievances keep inspiring young entrepreneurs to bring more reasonable alternatives.
Image via Shutterstock
Read More