Tesla's Biggest Drop Indicates a Stock Market Downtrend—Implications for the Bitcoin and Crypto Market
Yesterday, Tesla stocks plunged dramatically, suffering their biggest loss since going public.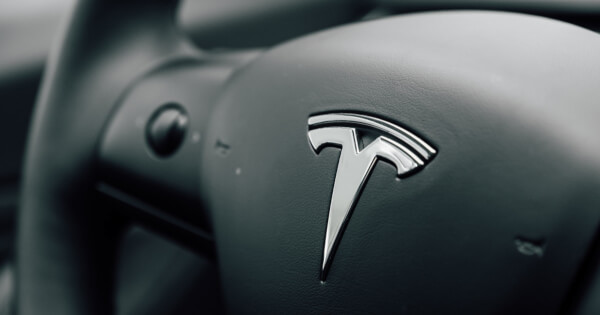 The tech giants stock also plummeted, with the Dow Jones Industrial Average dropping by 2.3% and the Nasdaq Composite losing by 4.1%.
Tesla stock plummets
The electric-car maker's stock—Tesla dropped by 21% in what investors deemed a terrible trading day, suffering its biggest drop yet. Tesla stock has been reported to have lost around 33.7% of its gains, falling from grace from a high of $498.32 in the past week.
According to reports by Blockchain.News, there appeared to be clues that the stock would undergo a massive sell-off. One of the indicators seemed to be when investment management firm Baillie Gifford, a long-time shareholder of Tesla stock, solid its shares and cashed out its gains at the same time as the electric car and battery maker's stock hit a record high.
With Tesla stock's bearish momentum, the market has suffered a huge loss as it continues its stock market downtrend.
On March 18, Tesla's price was trading around $70.10. It reached a record-high of $502.49 on September 1, but the Tesla stock has since then plunged in value, trading around $330 on NASDAQ at the time of writing.
Bitcoin breaks $10K
As for the crypto market, there appears to be significant movement and high volatility as well. After recording lows of $3,600 on BitMEX on March 13, Bitcoin, the top cryptocurrency by market capitalization, hit its high of the year, surging to $12,400.
Since then, Bitcoin has fallen back from $12,400 and seems to be consolidating around $10,000.
We have explained why the Bitcoin and crypto market is expected to crash before the opening of the Dow Jones. In order to prevent another dip from happening, the Bitcoin price needs to stay above the 90-day moving average.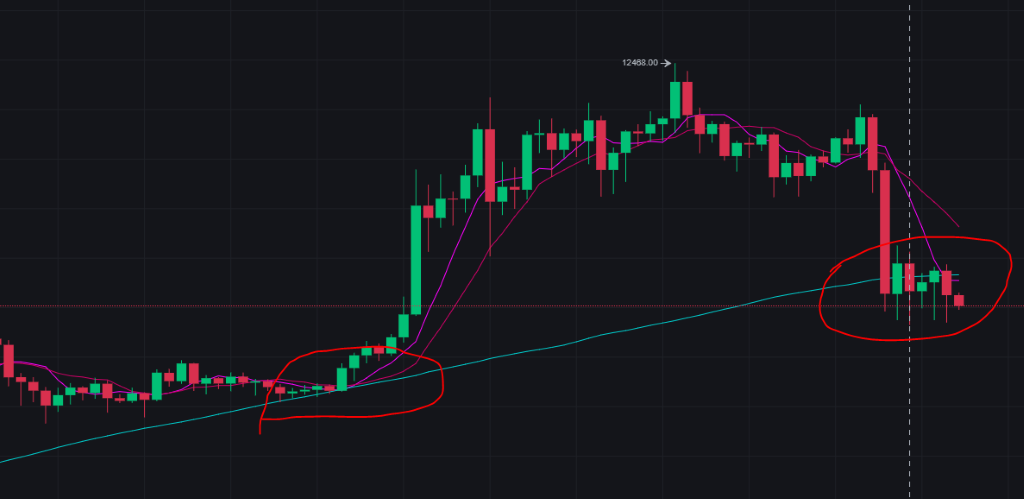 Source: TradingView
At press time, Bitcoin (BTC) broke below the $10K and rebounded a bit again. As the chart showed, the 90-day moving average can hardly be seen as the support level anymore. Should BTC pricing experience another dip in the future, the 90-day moving average would instead turn into a strong resistance level.
Related: 3 Reasons Bitcoin and Crypto Market Will Crash Again
A Case of Bad Sushi
The crypto market also suffered a huge loss over the past week, with the SushiSwap (SUSHI) token crashing after its anonymous founder cashed out. The price of the SUSHI token, which reached a high of $15.97 on September 1, plummeted to $1.13 in the following days, plunging to one of its lowest price levels.
The nosedive experienced by the crypto market could therefore be in part attributed to SushiSwap (SUSHI) token price, which will test the 5-day moving average (MA) soon.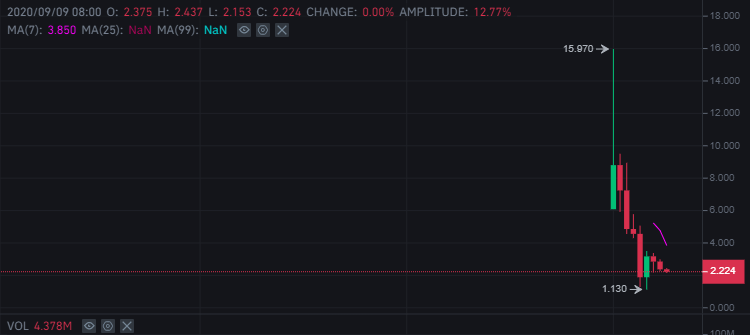 Source: Binance 
However, if there are not enough funds to support the SUSHI token price, the fall of SUSHI would overlap with Bitcoin's price drop and the stock market going down. These overlaps will cause a crash for the crypto market again.
Why are the stock and crypto markets crashing?
There seem to be no signs of fast recovery for the stock and crypto market, with a lack of new money supply influx. Additionally, investors earning a quick profit through pump and dump strategies and cashing out their profits on a short-term market run seem to be inhibiting the market's recovery. Although the US dollar has risen a bit and given investors a bit of hope, there seem to be no signs of any bullish momentum for the markets, as economic stimulus packages have not yet been rolled out by the United States government.
The stock market seems to be on the verge of a downtrend again, and consequently, it may lead to the plunge of the crypto market along with it.

Bitcoin whales
For Bitcoin, many companies and financial institutions are showing an increased interest in buying the cryptocurrency asset. As reported by Blockchain.News on August 11, MicroStrategy purchased 21,454 BTC for $250 million, averaging $11,652. 84 per Bitcoin. In addition, Grayscale Investments' parent company Digital Currency Group (DCG) also invested $100 million into Bitcoin mining projects. This endorsement of the digital asset by big-name firms could in turn drive up the Bitcoin price. However, whether it is enough to save the crypto market from another downtrend is still up for debate.
With additional reporting provided by Kun Hu.
Image source: Shutterstock
Related : Tesla Stock and Bitcoin Rebound with S&P 500, But Bitcoin Price and Crypto Crash Still Predicted
Read More