Tesla Shares Plummet as Bitcoin Sinks to $50,000
Tesla shares have plummeted, following a massive sell-off wave that overtook tech stocks and the cryptocurrency market.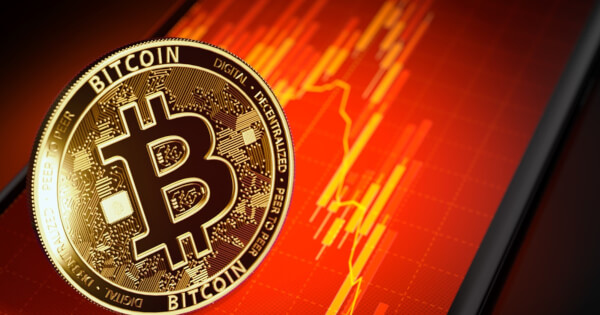 Tesla is now trading in the red zone, down by around 3.8%. Despite experiencing a solid bull run which pushed its price to the $900 mark at the end of January, Tesla has now entered into bearish territory. The plunge could be attributed to Bitcoin's drop in price, given the electric car-maker's $1.5 billion investment in the cryptocurrency. Earlier this month, Tesla CEO Elon Musk announced that his firm has added a sizeable Bitcoin investment to its balance sheet, sending the cryptocurrency rallying to new highs of $58K.
However, Bitcoin has dropped to the $50K level after nearly touching a new threshold of $60K. Market analysts have pointed out that Bitcoin was in an extremely overbought territory, making its bull run unsustainable in the short-term and a pullback in price inevitable.
Bitcoin still too volatile for institutions?
Others have also pinpointed that although Tesla was bold enough to add Bitcoin to its balance sheet, this could backfire since the cryptocurrency was still so volatile. Volatility has been cited as a main reason by analysts as to why Bitcoin has still not made it as an ideal means of payment. Additionally, because its volatility is higher than most assets, other institutional firms may not follow Tesla's Bitcoin move with a purchase of their own anytime soon, said JPMorgan strategists.
They explained that typically, a corporate treasury portfolio was compiled in a way where the accepted volatility rate was around 1%. However, even a 1% Bitcoin allocation would translate to an 8% volatility level for a given company, a far cry from the standardized 1%.
Elon Musk unfazed by BTC volatility
While some have been skeptical as to whether Tesla adding Bitcoin to its balance sheet has been a good move, it has undoubtedly served to draw attention to the cryptocurrency sector. It has also led to speculatations on whether other corporate giants such as Apple or Microsoft would announce a Bitcoin purchase as well. In addressing the speculations, Microsoft President Brad Smith disclosed that the software company had no immediate plans of investing in Bitcoin. Its co-founder Bill Gates also expressed a neutral view regarding the digital asset.
Despite his views, Gates applauded Elon Musk's move to invest in Bitcoin, and asserted that the Tesla billionaire knew what he was doing. However, he expressed a word of caution, saying, "If you have less money than Elon, you should probably watch out."
BTC bear market
Currently, the psychological barrier for Bitcoin seems to be the $50,000.00 level as it is fluctuating between $49K and $51K at the time of writing. However, if Bitcoin fails to sustain above that mark, it may retest the $47K level in the upcoming days, according to an analysis done by Blockchain.news.If the $47K level fails, Bitcoin may fall to lows of $41K. Needless to say, it seems as though the bearish market has begun for cryptocurrencies.
Image source: Shutterstock
Bitcoin's Largest Price Correction in History, Will BTC Price Continue to Fall?
Read More