Why Ripple's XRP Token Price Soared by 130% in a Month
Ripple's XRP token has been on fire lately, surging by 136% in the past month. Market sentiment surrounding XRP has been positive all-around, and its bullish rally is influenced by a few factors.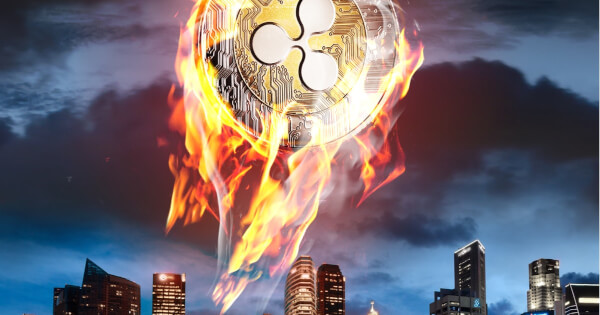 Bitcoin's bull run benefits altcoins
With Bitcoin's recent rally past $18,500, the mainstream cryptocurrency's success has also benefitted altcoins. Ethereum (ETH) and Ripple (XRP) have followed suit, recording surges of their own. Currently, Ethereum has managed to break past $600, rallying past a crucial psychological barrier and showing no signs of slowing down anytime soon.
As for XRP, the token has also outperformed and is currently trading up a near 35% in the last 24 hours. Speaking about how Bitcoin's bull run has benefitted altcoins in more than one aspect, Brian Norton, Chief Operating Officer of MyEtherWallet, shared with Blockchain.news:
"The recent BTC price surge demonstrates how BTC functions within the greater digital asset space – as an entry point for the crypto curious, and as a hedge against positions in the experiments occurring on other blockchains – Ethereum in particular – which are actively driving the value creation in the space."
The cryptocurrency market has been in the green lately, following Bitcoin's run to hit its all-time high price again. Bitcoin's gains have served to push altcoins higher.
Ripple Labs buys XRP to support healthy markets
In addition to Bitcoin's incredible rally, XRP has also been bought back in bulk by Ripple Labs. According to their annual report in Q3, Ripple's XRP asset purchases are currently estimated to be worth approximately $46 million. In order to "support healthy markets," Ripple technology firm disclosed that they have purchased more XRP. They may also continue doing so in the future.
By buying XRP back, Ripple may cause the demand for XRP tokens to increase, therefore driving up the price of it. This may serve to partially explain XRP's bullish momentum, although the amount of XRP bought back by Ripple is just a small dent compared to the token's total market volume.
Rise in XRP addresses
On-chain analytics have also picked up that unique XRP addresses have been surging, fueling the token's price gains. In addition to this, not only are unique wallet addresses going up, but XRP whales have also been increasing. In fact, blockchain analytics provider Santiment had disclosed:
"The rise of holders with coins containing large amounts of $XRP has been very apparent, as addresses with 10-1M tokens are at new ATH's."
Currently, there are at least 17, 625 XRP holders who own more than 1 million Ripple tokens. This may serve to push the price of the coin higher, and the surge in wallet addresses can translate to increased interest in Ripple.
Ripple's new projects
Ripple has also been working on new projects, notably partnering with the Bank of America. Currently, the latter has been added to their website, signifying that the two have been collaborating. The Bank of America has leveraged RippleNet in previous projects, according to numerous sources familiar with the talks. This may serve to consolidate Ripple's status as a cross-border payments network with low fees as well as a seamless and reliable user experience backed by an open-source distributed ledger technology.
Additionally, Ripple has been actively working to spread its wings. It is planning to open up regional headquarters in Dubai, which may expand its clientele base and increase the adoption of Ripple for its payments system and its native token XRP that acts as a bridge currency among fiats, stablecoins, and other cryptocurrencies.
Image source: Shutterstock
Read More