1 in 9 Indonesians hold Cryptocurrency, Hootsuite Report

Ever since Bitcoin came into existence in 2008, mass adoption of the technology has always seemed like a very distant reality, but a new report reveals that we are getting much closer than ever before.
According to a report shared by Hootsuite citing GlobalWebIndex, 11% of all Indonesians own some kind of cryptocurrency. The total population of Indonesia is just over 270 Million people which makes it the fourth most populous country on the planet.
If we do the math, it indeed turns out that 1 out of 9 citizens of Indonesia owns some sort of cryptocurrency. This indicates the massive level of mass adoption that the cryptocurrency is gaining in this region.
According to the Hootsuite report, Indonesia stands in the 6th position in terms of mass adoption of cryptocurrency following Philippines, Brazil, South Africa, Thailand, and Nigeria. Philipines has the highest percentage of the population owning cryptocurrency amongst any countries with 17% of the country's population having its hands dipped in the crypto market.
The reason for such figures for Indonesia is being attributed to the devaluation of the national currency of Indonesia, i.e. Indonesia Rupee (IDR). IDR took one of the worst hits against USD since 1998 and since the start of the year 2020, the USD/IDR pair has surged by 18%.
Given the fact that internet penetration in Indonesia is 64%, the 11% figure for owning cryptocurrency is very impressive. However, not everyone seems to agree with this report.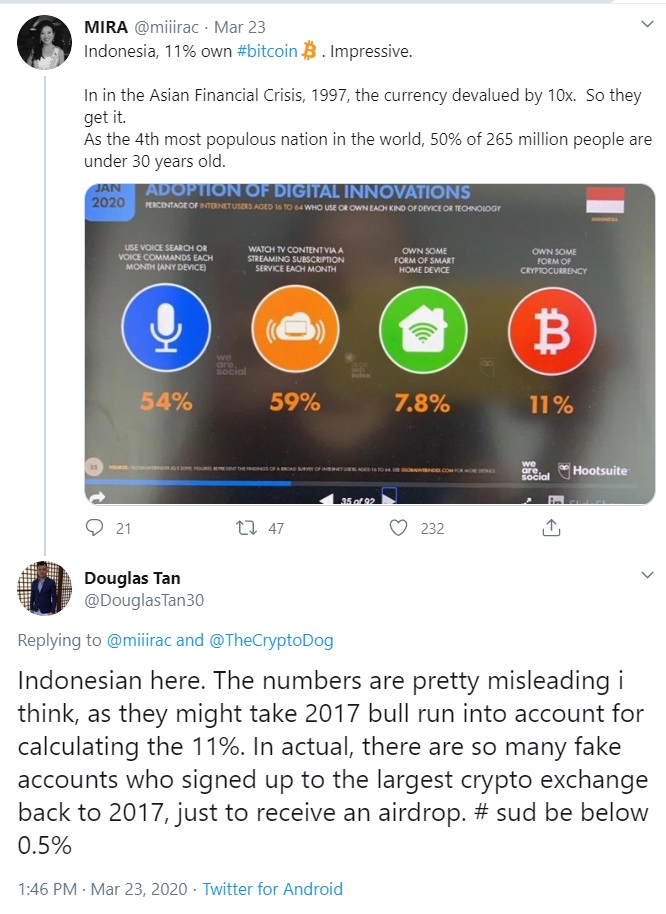 The authenticity of the numbers coming up in the report is coming under question since it has been released. According to the Hootsuite report, 7% of the world's population owns some kind of cryptocurrency. This means about 546 Million people around the world own some kind of cryptocurrency.
However, another report from Statista shows that there are only 45 Million blockchain wallet users in the world. Report from BitInfoCharts shows that more than 21 Million Bitcoin wallet holders have at least $1 in their accounts. Also, Brian Armstrong, CEO of Coinbase believes that there are almost 50 million crypto users in the world.
The numbers reported by Hootsuite and the earlier reports seem to contradict each other to some extent. But this doesn't change the fact Indonesia is definitely one of the countries that is marching at the front for mass crypto adoption.
Image via Shutterstock
Read More