C10: An All-Weather Approach to Investing In Cryptocurrencies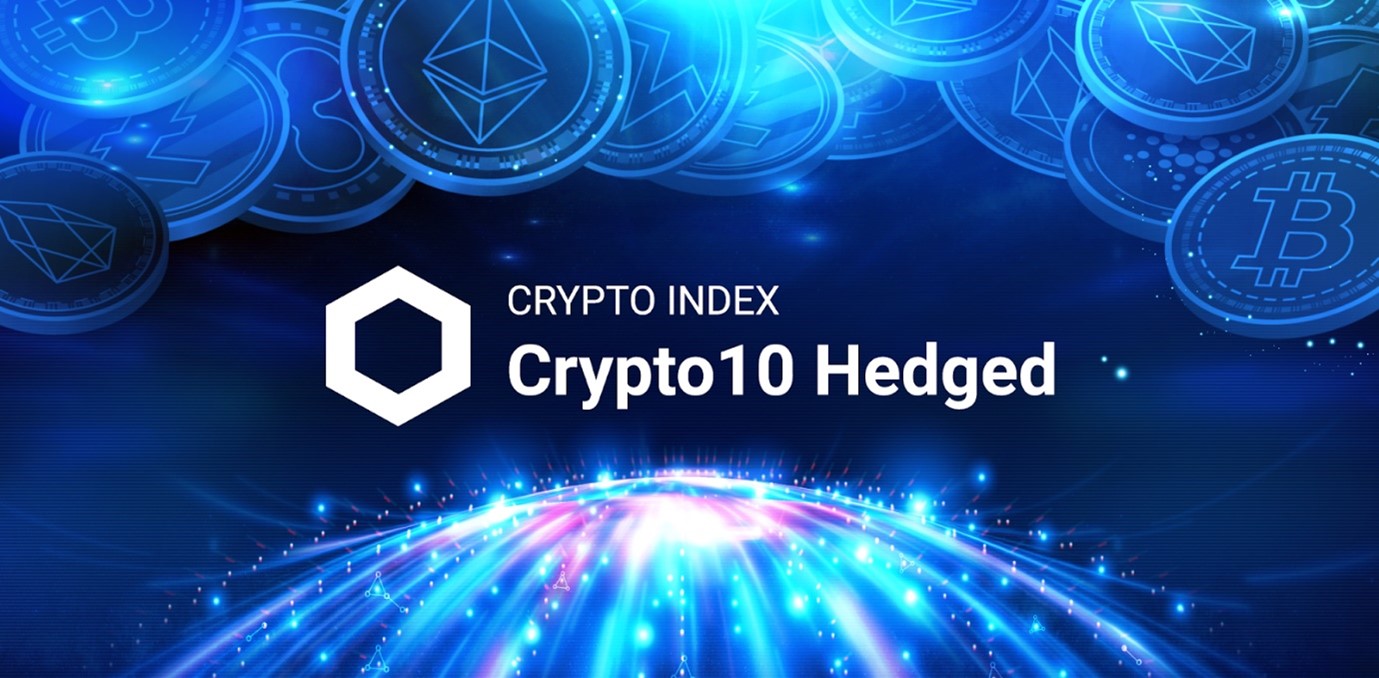 The future of cryptocurrencies looks bright as an increasing number of investors are looking for alternative investment opportunities, but many remain hesitant because of the market's extreme volatility. Crypto10 Hedged is an index fund that allows investors to own a portfolio of the top 10 cryptocurrencies with a single token (C10) while mitigating risk and volatility through its dynamic cash hedging algorithm.
C10 has performed exceptionally well since its inception in 2019, with the fund's assets under management recently surpassing $8.5 million on the back of a red-hot rally for cryptoassets over 2021 to date, with the fund outperforming Bitcoin over the period. The dominant cryptoasset, Bitcoin, has seen tremendous growth over the recent bull run, surpassing its previous all-time high of $20k by over 150% to $52k. Alt coins such as ETH have yet to reach quite the same level of outperformance relative to their 2018 highs, however, they have been staging an impressive resurgence off the back of Bitcoins rally, contributing to the C10 fund's performance.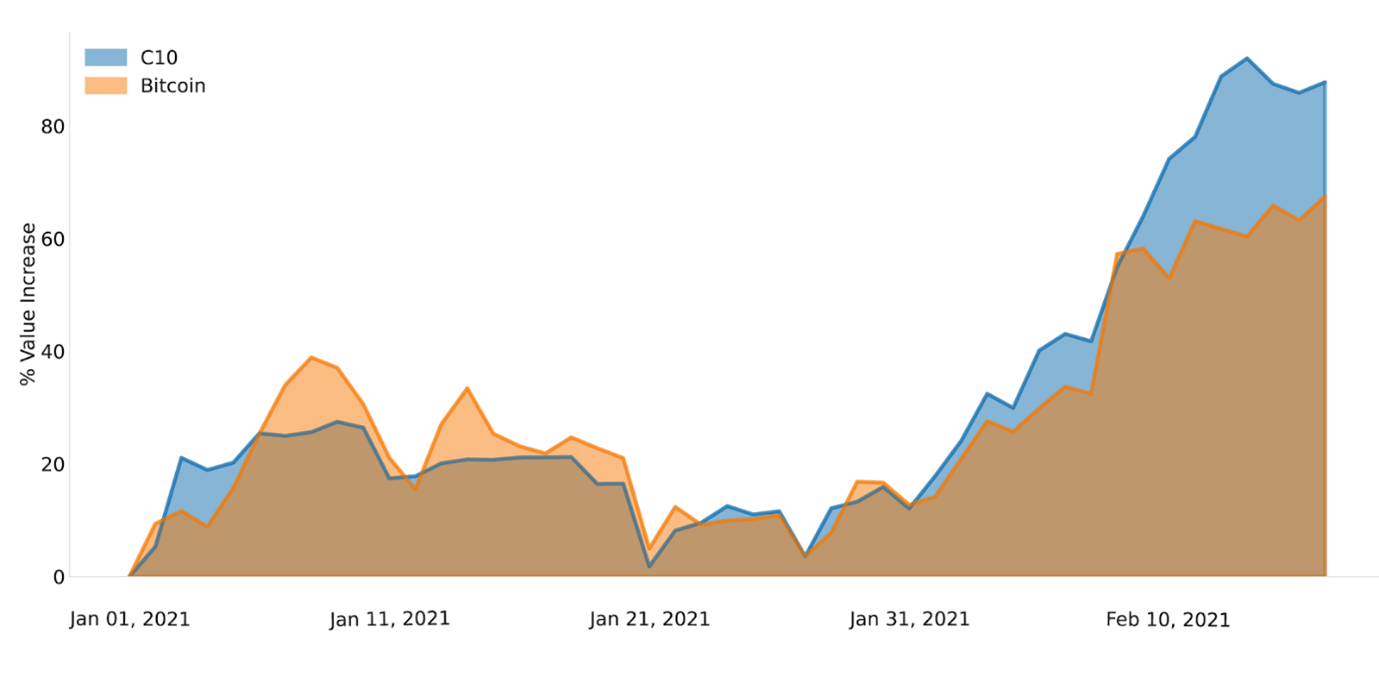 The C10 fund follows a passive strategy with medium- to long-term investors in mind. It is the ideal option for those who are more risk-averse and looking for an all-weather approach to investing. The fund helps investors ride trends effectively - taking advantage of cryptocurrencies' rapid price appreciation during bull markets, but reducing exposure during bear markets by increasing its cash position.
The index fund comprises the top 10 cryptocurrencies by market capitalization, which rebalances weekly - a frequency optimized by our quant team to enhance returns by locking in profits from surging assets, and similarly reducing exposure to assets in free-fall. There is also a cap of 15% per asset, which ensures further risk mitigation by preventing single cryptocurrencies from dominating the portfolio.
The weekly rebalancing process takes the dynamic cash allocation into consideration. By allocating cash weekly, the algorithm has the flexibility to be responsive to market movements. The fund is able to allocate up to 100% exposure to yield-bearing cash during periods of market drawdown, which effectively hedges the fund from this downside volatility. When the market stabilizes, the fund is reinvested into cryptocurrencies. This strategy is one of the main factors which makes the Crypto10 Hedged fund a safer investment - allowing investors peace of mind that is not typically associated with crypto investments.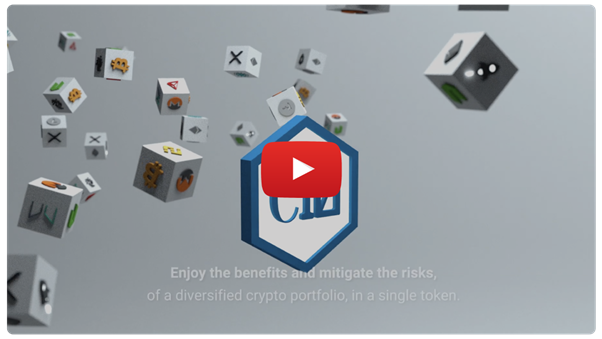 The Crypto10 Hedged investment fund is open-ended and accessible via the Invictus Capital Investor Platform, which has the advantages of convenience and complete transparency. Investors do not have to trade through an exchange, and liquidity is available at any time to enter or exit the fund.
To invest in the Crypto10 Hedged fund, investors will follow a similar subscription and redemption process to that of traditional mutual funds. To buy the C10 token, you can visit the newly-redesigned Invictus Capital Investor Platform. The NAV of the fund is displayed in USD and is updated in real-time.
FREQUENTLY ASKED QUESTIONS
Which data science techniques are used to rebalance C10?
C10's cash allocation is rebalanced weekly by using a proprietary machine-learning algorithm that underwent extensive backtesting. Apart from the main parameter, which is the total market cap, it considers many factors in portfolio construction such as mean-variance through correlations paired with risk parity analysis. The algorithm is also set up to consider specific inputs from the in-house Invictus Capital analyst team for qualitative traits. Lastly, it uses various market indicators to determine cycles, momentum and technical signals to determine optimal cash weightings. It is continuous in the learning process, continually comparing realized and forecasted performance.
What are the fees?
Ongoing costs include a 1.7% fee per annum for management, administration and custody. These are always reflected in the C10 token price displayed. A 0.5% fee applies for each subscription and redemption, to protect against scalping and arbitrage.
Which currencies can you use to invest with?
Investments into C10 can be made with Bitcoin (BTC), Ethereum (ETH), DASH, TrueUSD (TUSD), Tether (USDT), Mastercard, VISA or bank transfer. No minimum investment applies.
How to redeem my C10 tokens?
C10 tokens can be redeemed for their total value in ETH through the Investor Portal. The C10 smart contract holds liquidity for redemptions which are processed hourly. A forward-pricing model is used.
What are the smart contract details?
C10 is an ERC-20 token issued on the Ethereum blockchain. The smart contract address is 0x000C100050E98C91f9114fa5Dd75CE6869Bf4F53, and there are 18 decimals.
For further questions or more information, investors can talk directly to the Invictus Capital team on Discord or Telegram
Image source: Invictus Capital Media
Disclaimer : The views and opinions expressed in this article are those of the contributor and Blockchain.News does not endorse and is not responsible or liable for any content, accuracy, quality, advertising, products or other materials on this page. Readers should conduct their own research before taking any actions related to this company. Blockchain.News is not responsible, directly, or indirectly, for any damage or loss caused or alleged to be caused by or connected with the use of or reliance on any content, goods or services mentioned in this article.


Read More