NYC Mayor-Elect Adams Says He Will Take First 3 Paychecks in Bitcoin
New York City Mayor-elect Eric Adams, a cryptocurrency proponent, made a landmark statement on his Twitter, saying that he will take his first three paychecks in Bitcoin when he takes over City Hall in January.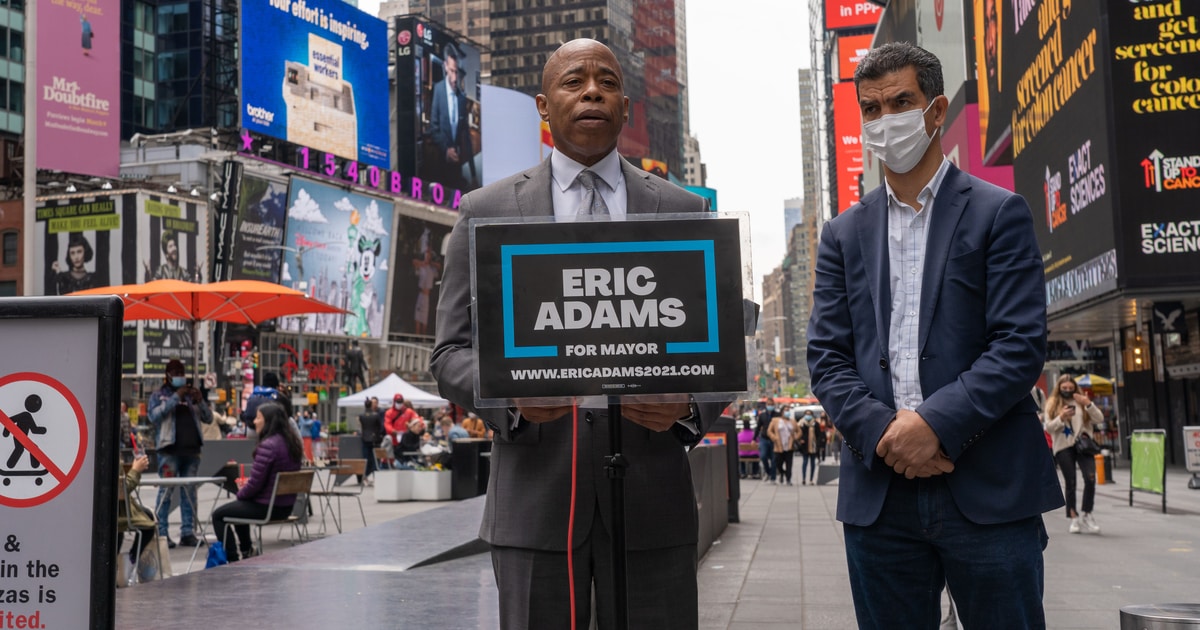 Adams, an ex-Police Captain and Democratic party candidate, won the New York City Mayoral race by gaping his closest competitor Curtis Sliwa after garnering 67% of the total votes.
Since his campaign for NYC Mayor, Adams - the second elected black Mayor of New York City - has been vocal about his visions on making the city the next crypto hub to watch after Miami.
His boisterous statements such as "NYC is going to be the center of the cryptocurrency industry and other fast-growing, innovative industries," has the crypto community keeping a close watch on him.
Making crypto one of the key highlights of his election campaign, Adams has said that he will transform the city within one year of taking office with digital currencies featuring prominently in his government.
"I promise you, in one year […] you're going to see a different city. […]. We're going to become the center of life science, the center of cyber security, the center of self-driving cars, drones, the center of bitcoin. We're going to be the center of all the technology," he said during his campaign for NYC mayor.
Adams' crypto-friendly vision coincides with that of Miami Mayor Francis Suarez who was the first to set up a so-called CityCoin cryptocurrency. He has said that he wants to explore NYC Coin similar to Miami's.
"He has a MiamiCoin that is doing very well - we're going to look in the direction to carry that out," Adams said in a Wednesday interview on Bloomberg Radio. He vowed to "look at what's preventing the growth of Bitcoin and cryptocurrency in our city."
Adams has been closely following in Suarez's footsteps as his tweet came as a response to Suarez's statement, where he announced that he would take his next paycheck 100% in Bitcoin. Michael Sarasti, Miami's director of innovation and technology, has also tweeted about receiving his paycheck in Bitcoin.
In doing so, Suarez stated that he will become the first American lawmaker to accept bitcoin as a salary payment. According to the Miami Herald, the mayor of Miami's annual salary is $187,500.
Accepting bitcoin as a paycheck may not be as complicated as it sounds. Suarez has insinuated he would convert his pay through payment provider Strike's Pay Me in Bitcoin feature, a dollars-to-Bitcoin conversion mechanism.
While the budding Bitcoin romance is generating attention for Adams and Suarez, it remains to be seen if it advances the case for Bitcoin as a transactional currency.
In an innovative move, mayor Suarez has also proposed formalizing a mechanism by which Miami would let employees take part of their salaries in cryptocurrency.
But even then, Miami has explored doing so through a contract with a third party. In somewhat of a drawback, local governments in Florida are prohibited from directly holding or investing in volatile assets.
Image source: Shutterstock
Will NYC's Incoming Mayor Eric Adams Make the City the Crypto Hub to Watch?
Read More