Why MicroStrategy Invested $425M in Bitcoin Rather than Gold
MicroStrategy CEO Michael Saylor says that Bitcoin is digital gold and explains his choice in diversifying his company's investment portfolio with the mainstream cryptocurrency over gold.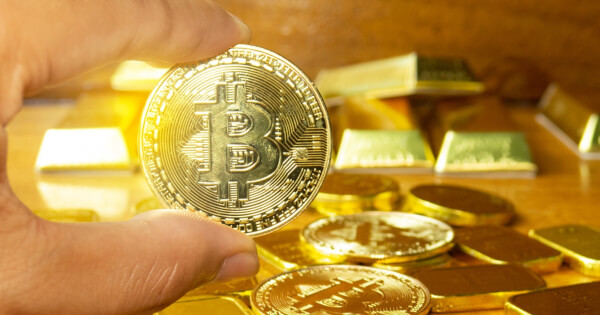 Microstrategy acquires $425M worth of BTC
In an interview with Stansberry Research, the chief executive officer of the multibillion-dollar business intelligence firm broached the subject of Bitcoin (BTC), gold, and alternative asset classes. He explained that with the Federal Reserve's plans to continue pushing inflation above 2%, he felt as if MicroStrategy's investments were sitting on "a $500 million melting ice cube," with the depreciation of the US dollar.
This drove him to secure Microstrategy's treasury reserve by purchasing $425 million worth of Bitcoin. The bold move made headlines everywhere as MicroStrategy is the first public company to invest most of its reserve monetary supply in BTC.
Bitcoin is scarcer than gold
When comparing Bitcoin to gold, Saylor explained that though he did consider gold as a hedge initially, the fact that its supply was never-ending, with miners producing 2% more every year, was less appealing. Since gold's supply is not fixed, it is not as good a hedge against inflation as Bitcoin.
With gold, its price will go up with increased demand, but as it does, so will the incentive for mining and investing in it. With the incentive to mine more gold, this will in turn increase the metal's supply, and it will inevitably lead to a price drop.
However, with Bitcoin, there will only be 21 million, and the scarcity of the crypto asset is enough to drive up its price. As there is no way to generate more BTC, the cryptocurrency asset was "a harder asset than gold."
Hedge against inflation
According to Saylor, the value of Bitcoin was only going to surge, with the increased interest of tech and institutional investors in the cryptocurrency. The MicroStrategy CEO tweeted his two cents, saying:
"Positive inflation drains the energy from your life. Negative interest is an attempt to stop the flow of time. Channel your energy into #Bitcoin and move forward toward the future you deserve."
This sentiment is not unlike that shared by Bitcoin bull Tyler Winklevoss, who has previously said that "Bitcoin is ultimately the only long-term protection against inflation."
Bullish on Bitcoin
Saylor also added that "Bitcoin was the best security with the best liquidity," explaining that the asset could be exchanged from anywhere, at any time of the day, any day of the week, an advantage that makes it even more appealing given the current digital age. Saylor concluded that Bitcoin was "faster, smarter, and better" than any asset out there.
Saylor is not the only investor that has looked into Bitcoin as a hedge and a long-term investment. Retail and institutional investors alike have increasingly turned towards Bitcoin, with the current global economic unrest brought upon by the coronavirus pandemic.
Over the weekend, former British politician Godfrey Bloom announced that he had purchased his first Bitcoin.
Image source: Shutterstock
Related: Winklevoss Says Bitcoin Price to Reach $500,000 — Why BTC is Better than Gold and Oil
Read More